Proverbs 27:19 says, "Just as water reflects the face, so does our heart reflect our lives." In Proverbs 4:23 we are warned to guard our hearts ABOVE ALL ELSE because everything we do, everything we believe, flows from our heart.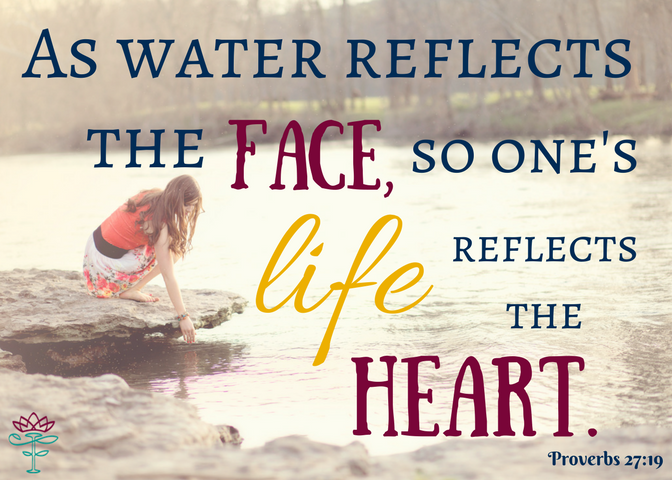 If our hearts are a reflection of what we believe, what beliefs are springing forth from your heart?
Either those beliefs will line up with the Word of God or they line up with the father of lies. Yet, before we get into how we replace those false lies, we need to get real for a moment and touch on an often-uncomfortable subject.
We have an enemy. A very real enemy. Let's get a few facts straight about the enemy. It is important that the knowledge we gain from God's Word be used to empower and equip us at all times. It is never meant to discourage nor to defeat us. Be sobered and strengthened by what God's Word says about our enemy:
He is the father of lies. (John 8:44)
He accuses us before God day and night. (Revelation 12:10)
He lost a heavenly battle. (Revelation 12:7)
He is out to get the children of God. (Revelation 12:17)
He steals, kills, and destroys. (John 10:10)
He is as powerful in our lives as we allow him to be. (Romans 6:16)
If you resist him, he will flee from you. (James 4:7)
God has removed us from the domain of darkness and placed us firmly within the kingdom of His Son! (Colossians 1:13)
Now, let's get something else straight. We have the most powerful weapon of all to defeat the enemy!
The Word of God
Ephesians 6:17 tells us that the Word of God is the sword of the Spirit. Lisa Bevere in her book, Girls with Swords, takes this truth to a new level for us modern girls. I am a highly visual person. I love "seeing" something come to life.
"For the word of God is alive and active. Sharper than any double-edged sword, it penetrates even to dividing soul and spirit, joints and marrow; it judges the thoughts and attitudes of the heart." Hebrews 4:12
There's the word-sword, and it's not just any sword!
We have been entrusted with a holy weapon that is invincible, invisible and incorruptible.
The word of God is that weapon.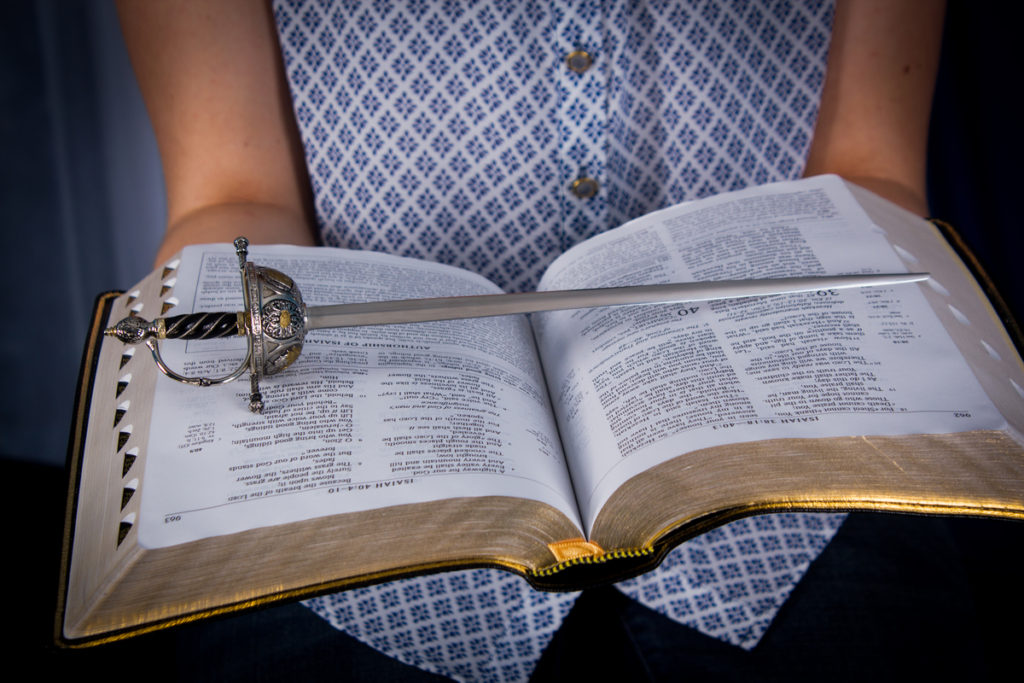 God has entrusted us with His Word, and He wants us to speak the Word. He wants us to live the Word. He wants us to have such an intense love for the Word so that it will become flesh in our lives.
Why? So that it will become active and alive in our very lives. How incredible is that?!!
Unfortunately, we sometimes go through life unarmed and unprepared. Imagine if you knew that a robber was lurking around in your neighborhood day and night. He had every right to be there. The police could not do anything about him. Each day you turn on the morning news and hear stories about what this robber was stealing from your neighbors. Lives this robber was destroying, homes he was dividing.
If this scenario were true, we would not think twice about having the greatest and best security system available. Right?
Yet, this scenario is true in the spiritual realm. We have a thief that is out to steal, kill and destroy and our greatest security system is God's Word.
The Word of God is a mighty and powerful sword that stands to protect us, empower us, and heal us. The enemy is terrified when we wield the sword of God's Word at him. The Bible says he has to flee. (James 4:7) He doesn't have a choice since he has already been defeated.
It is no longer enough to know the generalities of the Word of God; we must know how to wield the power of the Word of God.
How do we use that power? How do we use the sword of the Spirit of God's Word to defeat the father of lies?
I sound like a broken record. Yet, I am on a mission. It has now become my life's calling to encourage women — myself and my daughter first and foremost–to be DECLARERS of God's Word.
Whether the battle is for our identity, our purpose, our family, or in our very bodies, the price is far too great to allow an already-defeated thief to steal what is not rightfully his.
I want to see women rise up in strength and purpose and SPEAK the Word of heaven to become real as we walk on earth (Matthew 6:10).
I want to see women speak the Word of God until it becomes living glorious flesh that dwells with us (John 1:14)
I want to see women making a habit of praying and speaking the word of God over their lives, their futures, and their families (2 Timothy 3:16-17).
I want to leave you with some useful and practical tools. Here are three ways you can begin to wield the sword of God's Word in your life today!
What battle are you currently facing? Using spiral bound index cards create a "flip-book" of scriptures that "battle" whatever you are currently facing. Do you want to combat lies about your identity that are contrary to God's Word? Write out every scripture you find, one per index card, in your flip-book. Each day spend 15 minutes declaring these scriptures over yourself.
Seek out a prayer partner to pray with you consistently. Some foundational lies need specific and consistent prayer. I like to refer to it as "warring in the Spirit." Just as most battles aren't won in a day, partnering with a sister in Christ to battle and declare God's Word alongside you can make all the difference. We all need others to hold up our arms when we are becoming battle weary. (Exodus 17:12)
Fight for your 15 minutes in God's Word. The enemy will always want to keep us from knowing God's Word because, if we know the Word, we can wield our mighty sword. In some seasons of life, it is truly a "fight" to be in God's Word. Yet, let me encourage you to make this fight a priority. Whether it is 5, 15 or 50 minutes, spend consistent time growing your relationship with God's Word.