The words King David penned in Psalm 27 are a beautiful marriage of thanksgiving, praise, and petition. It is his love letter to the Father and a pep talk to his own heart. We find that David understood the power of prayer, the power in the process, and especially the power of praise.
When we first read Psalm 27 we may not realize the season of life David was in when he wrote these words. I was intrigued to find that he was in a chaotic season of his life.
Most historians believe that David was yet again hiding in a cave. This time running from his own son, Absalom, who not only was rebelling against David, but was also raising up an army to kill his father and usurp the throne.
Can you say "family drama"?
In the midst of that chaos, he wrote these beautiful & confident words:
The Lord is the stronghold of my life;
of whom shall I be afraid?
Though an army encamp against me,
my heart shall not fear;
though war arise against me,
yet I will be confident. Psalm 27: 1,3
In the midst of the storm, David knew he needed to declare God's word!
He needed to petition his God; this is the power in prayer…
One thing have I asked of the Lord,
that I will seek after:
that I may dwell in the house of the Lord
all the days of my life,
to gaze upon the beauty of the Lord
and to inquire in his temple. Psalm 27:4
He understood the power in the process…
You have said, "Seek my face."
my heart says to you,
Your face, Lord, do I seek." Psalm 27:8
Teach me your way, O Lord,
and lead me on a level path
because of my enemies. Psalm 27:11
Wait for the Lord;
be strong, and let your heart take courage;
wait for the Lord! Psalm 27:14
Lastly, David knew of the power in our praises…
…and I will offer in his tent
sacrifices with shouts of joy;
I will sing and make melody to the Lord. Psalm 27: 6b
Within David's writing of Psalm 27, David is strengthening his heart by declaring who God is and reminding his soul to believe. It is a beautiful reminder and testimony to remaining confident in the midst of chaos.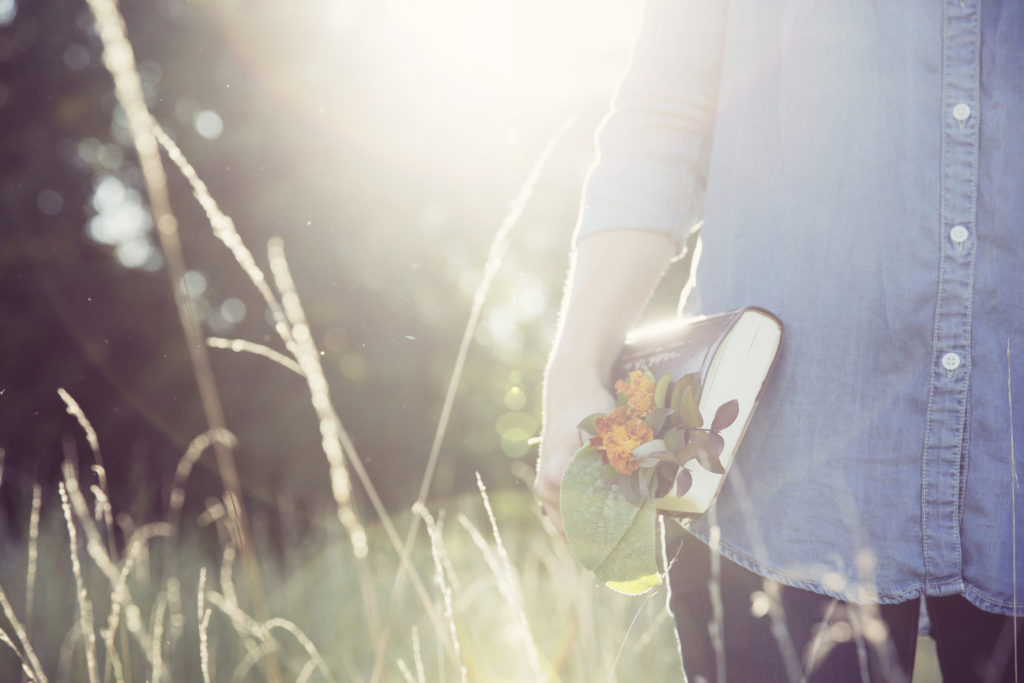 I am reminded of a season in my life when my heart needed strengthening. The first three years of my marriage were incredibly difficult. My husband was sick most of the time with a chronic illness.
Have you ever been to the beach, running excitedly into the surf, only to be tumbled and tossed by the waves? You get salt water in your nose only to be assaulted by that burning, stinging sensation you'll never forget.
By the end of our second year of marriage, I felt that a crashing wave of stinging salt water had squelched the flame of my faith.
At the beginning of the year, my church hosted seven nights of worship and on the first night they played the song, "God's not Dead." There is a line in that song that says, "My faith is dead. It needs a resurrection." That is exactly how I felt and I cried out to God, "God please resurrect my faith. I don't want to feel this way."
The next song they played was "Oceans" by Hillsong, and I could relate to that song in every way! That song would become my declaration of faith. At that time, my prayer was not only that God would revive the flame and bring it back from the dead, but that He would also set a steady fire deep inside my soul.
I began listening to my declaration songs every single day for about seven months. These songs began to marinate my soul as a declaration of faith, a meditation, a prayer, a petition. These songs became my psalm.
That Sunday morning when I prayed for revival, I did not fully realize that those prayers rose up to a faithful and powerful God. The declarations of truths that I was making over myself were beginning to activate my faith,and with time these petitions would bear much fruit.
God would go on to heal my husband. As for me, not only did He resurrect my faith, He started an unquenchable fire inside my heart!
I believe what we all need in this day and this hour is our own personal declaration of faith. When we use God's word to declare over our situations and ourselves, the power in God's word begins to be activated and spring into life in our situations.
We have a God who loves us, who desires good for us, and who longs to give us hope and a good future.
As we look forward to what this year holds, life may not go according to plan…in fact there is a good chance there will be some unexpected twists and turns.
Nevertheless, I am certain that our declarations of faith will allow us to remain confident in the midst of chaos, anchored with steadfast and immovable confidence to our God.